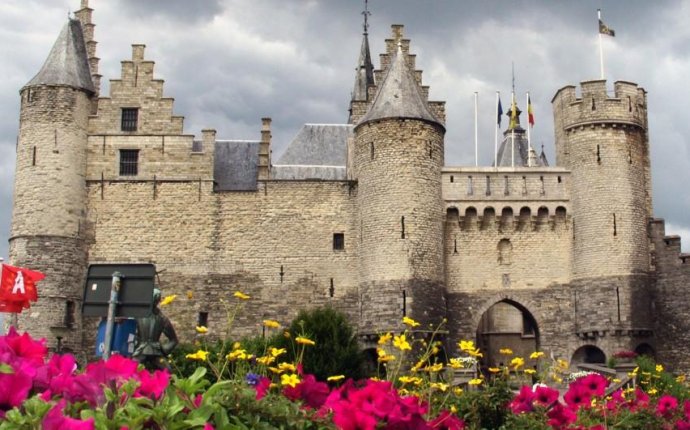 Facts About Belgium Food
Belgians like to eat. Belgium is famous for its good cuisine and people like to go to restaurants frequently. Best description for Belgian food would be "French food in German quantities".
General Rules
As anywhere else in the world, avoid the tourist traps, where the touts are trying to get you in the restaurants. You will get average to bad quality food for average to high prices, and, at busy times, they will try to get rid of you as soon as possible to make space for the next customer. A good example of this is the famous "Rue des Bouchers / Beenhouwersstraat" in Brussels in this picture.
Belgium is a country that understands what eating is all about and can be a real gastronomic paradise. You can have a decent meal in about every tavern, from small snacks to a complete dinner. Just pop into one of those and enjoy it.
If you want to eat really well for not too much money, ask the local people or the hotel manager (that is, supposing he does not have a brother restaurant-manager) to give some advice for a good restaurant. Not a bad idea is to find a restaurant or tavern a little bit outside of the cities (if advised by some locals) they are usually not too expensive but deliver decent -> high quality food. And ordering the specialties during the season will be both beneficial for your wallet and the quality of the food.
Quality has its price: since the introduction of the euro, price for eating out in Belgium nearly doubled. Expensive food like lobster or turbot will always cost a lot of money at any restaurant. But you can also find some local and simple dishes, rather cheap and still very tasty (such as sausages, potatoes and spinach). Normally a dinner (3 dishes) will be around 30 - 50 Euro's depending your choices of food and restaurant. And for cheep, greasy food, just find a local 'frituur', it will be the best Belgian Fries you'll have had in ages
S
pecialities
A number of dishes are considered distinctly Belgian specialities and should be on every visitor's agenda.
Mussels are a firm favorite and a side-dish of Moules et frites/Mosselen met friet (Mussels with French fries). The traditional way is to cook them in a pot with white wine and/or onions and celery, then eat them up using only a mussel shell to scoop them out. The top season is September to April, and as with all other shellfish, do not eat the closed ones. Belgium's mussels always come from the nearby Netherlands. Imports from other countries are looked down on.
Source: www.gapyear.com