Brussels Belgium Airport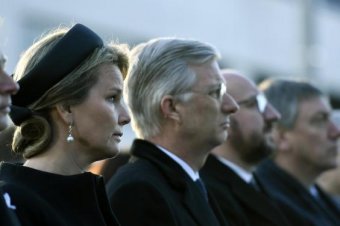 The Belgian royal family and Prime Minister Charles Michel today led commemorations for the 32 people killed in the Brussels airport bomb attacks a year ago.
Airport staff, security and rescue personnel stood watch as King Philippe laid a wreath outside the departure hall of the Belgian capital's Zaventem airport, where 16 people lost their lives.
The names of those who died were read out solemnly, accompanied by a single cello.
Belgium: Queen Mathilde, King Philippe and PM Charles Michel at Brussels Airport CEO at a commemorative event. (EPA)
Inside the departure hall, a large wreath lay in a cordoned-off area.
More than 300 people were wounded in the attacks, claimed by the Islamic State group, but around 900 people now number themselves among the victims to have suffered physical or mental trauma.
EU: A minute of silence was held across Belgium, including at the European council. (EPA)
Commemorations are also taking place at the Maelbeek subway station, where 16 people were killed, and at a new memorial to be officially unveiled in the Belgian capital's European quarter.
Belgium has remained on its second-highest alert level since the bombings a year ago, meaning that the threat of an attack is possible and likely but not immediate.
Soldiers continue to guard key buildings and transport links, and conduct random patrols in public areas.
Reuse content
Source: www.standard.co.uk