Belgium Beer with Pink Elephant
Beer Style
Heavy Blond Beer of the Tripel Type
The Beer
The Delirium Tremens was born in 1988 at the request of an Italian client. This beer is an outsider. Its white bottle is reminiscent of Cologne pottery ware.
On the label you will see pink elephants, crocodiles and dragons depicting the various stages of inebriation you might expect to go through after a few glasses. The name was invented by a tax inspector, of all people, as he became aware of slowly-approaching intoxication. Delirium Tremens hits the spot as far as many beer lovers are concerned. Its production alone represents almost a third of the brewery's total volume.
Delirium Tremens is a heavy blond beer of the tripel type and it re-ferments in the bottle. Interestingly, three different types of yeast are used in its production.
Since its launch, the Delirium family has grown, and now includes the dark Delirium Nocturnum, the seasonal Delirium Christmas, the Delirium Red fruit beer and Deliria, aimed at a female clientele.
Alcohol
8.5% ABV
Fermentation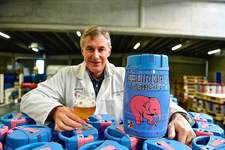 Top-fermented beer that re-ferments in the bottle.
Ingredients
Delirium Tremens is brewed with only natural ingredients; water, three varieties of yeast, pale malt, Styrian Golding and Saaz hops.
Colour & Transparency
The beer is a pale blond in the glass with a slight cloudy haze produced by the re-fermentation.
It will continue to bubble in the glass and, if served correctly in the proper Delirium vessel, will develop a beautifully delicate head of froth.
Serving Temperature
6 °C / 42 °F
Serving Glass
Like most Belgian beers Delirium Tremens should ideally be drunk from its own, elegant degustation glass on a tall stem. The pink elephants and dancing letters of the beer's bottle lend a touch of gaiety to the branded glass too.
Character, Tastes & Aromas
Taste this tripel and you'll be surprised by malty aromas and fruity touches of orange zest, green apples and apricots with a hint of banana.
As you drink a glow of alcohol warms your tongue and palate. Delirium Tremens tastes full in the mouth with plenty of body and a long finish of dry bitters.
Culinary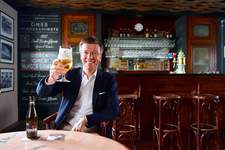 The official Huyghe website offers several recipes which either use, or are paired with their beers, including Delirium Tremens.
Keeping and Storage
This is not a beer that was brewed to be laid down and kept. It should be enjoyed while it is young.
The beer will keep in the bottle for 36 months and, on tap, for 12 months. Always store the bottles vertically in a cool, dark and dry environment.
Availability
Bottle ✔ On Tap ✔
Available in bottles (33cl, 75cl), on tap (15, 20, 30 and 50l) and in a single way barrel (20l, 30l).
Comments
You must be logged in to leave a comment
POSTS
Brouwerij Huyghe, the Pink Elephant marches on
MELLE - Alain De Laet, CEO and owner of Brouwerij Huyghe, is a firm believer in the power of the Belgian beer brand around the world. The success of the brewery speaks for itself, with Huyghe be... [ more ]
Omer Vander Ghinste celebrates 125 years of brewing craftsmanship
KORTRIJK/BELLEGEM - It was in 1892 that Brouwerij Omer Vander Ghinste opened for business in Bellegem, a village near Kortrijk in West Flanders, close to the French border. Since then, countless... [ more ]
Brasserie de Brunehaut - In tune with the seasons
RONGY - In Rongy and all around it, spring is in the air. The fruit trees are in bloom and nature has put on its most beautiful face. I'm on my way to [ more ]
Westmalle Dubbel or Westmalle Tripel?
WESTMALLE - If you order a Westmalle you're likely to be served with a Tripel. This is no coincidence as this strong blonde Trappist beer now accounts for 75% of the beer output of this [ more ]
Amburon Belgian Craftbrewery - A new brewery in Belgium's oldest city
TONGEREN - After a fifty-year wait the moment has finally arrived. Once again, the city of Tongeren can boast its own brewery and city beers. The story commences with the 2009 Coronation Celebra... [ more ]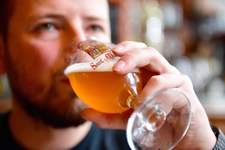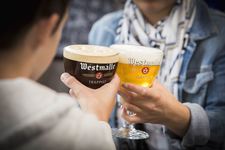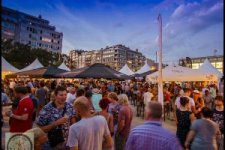 Source: belgium.beertourism.com