Hotels in Chimay, Belgium
Chevetogne
Primarily a centre of prayer, the Monastery of Chevetogne comprises of male religious of the Byzantine-slav community as well as monks of a Latin Benedictine community, sharing in each others liturgies as well as the same abbot.
The monastery of Chevetogne, situated in the countyside between Brussels and Luxemburg, iis an international, Benedictine monastery, devoted to the unity of Christians. The community is "bi-ritual", in that two distinct groups of monks celebrate the monastic office respectively in the Roman and Byzantine-Slavic traditions,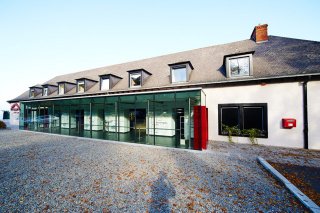 Monastère de l'Exaltation de la Sainte Croix (Monastère Chevetogne)
Rue du monastère 65
B – 5590 – Chevetogne
Belgique
Tel: + 32 (0)83 21 17 63
Fax: + 32 (0)83 21 60 45
e-mail: abbaye@monasterechevetogne.com
Guesthouse for men: hotelier.monastere@monasterechevetogne.com
Guesthouse for women and families: hotelier.bethanie@monasterechevetogne.com
Chimay
The Trappist monks of Notre-Dame de Scourmont (also known as the Abbey of Chimay) in the hamlet of Forges near Chimay, have a large monastery hotel for guests wishing to spent some quiet time or make a retreat. For centuries the monks attached to the abbey have produced the well known Chimay Cheese as well as the award winning Chimay Trappist beer.
The monks own a small guesthouse/hotel located in the village of Bourlers, approximately 1 kilometre from the abbey, where general tourists, travellers and holiday-makers are welcome. Guestrooms are ensuite, air conditioned and equipped with full hotel facilities including a mini bar. The hotel restaurant serves Chimay beer and cheese and seats over 200 people.
The menu lists everything from a Chimay cheese sandwich, a four cheese quiche, Chimay cheese fondue to steak served with cheesy chips.
Photo courtesy Auberge de Poteaupré
Ghent
The Monasterium PoortAckere is thought to have been established in the beautiful Flemish city of Ghent in the 13th century. Religious orders have occupied the building since this time and up until 1998 when the Sisters of the Holy Eucharist decided to move elsewhere and sell the building. Since this time the building has been run as a 3-star hotel. Renovations over the centuries only added to the beauty of the building and many of the trappings and accoutrements of the former convent remain. The old refectory is now a popular and atmospheric dining room where the food, wine, tableware and surroundings reflect its past. The hotel is in the centre of the town and single guestrooms are available from around €46.00. Numerous double, triple and family guestrooms and packages are available with prices starting at €115.oo per room. There is also a guest car parking area.
Source: www.goodnightandgodbless.com