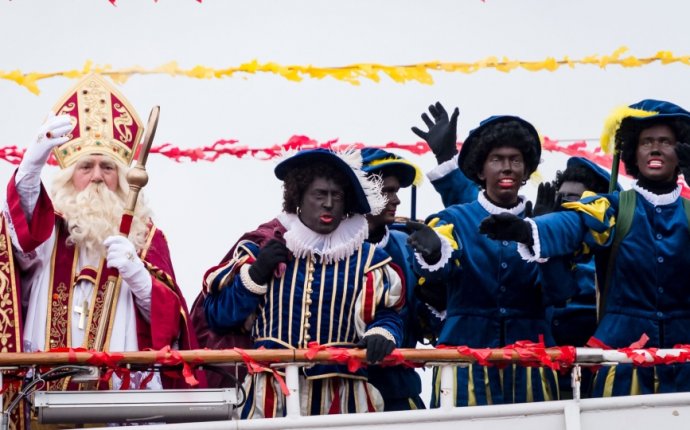 Saint Nicolas Belgium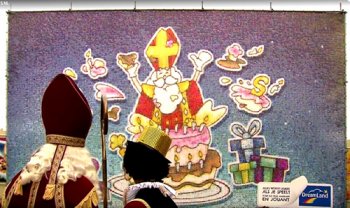 Belgium
In Dutch-speaking Flanders, colorful parades greet St. Nicholas with bands and banners picturing the saint. He and his Zwarte Piet assistants come in November, or early December, by boat, train, or on horseback to get ready for his feast day, the 6th of December. The Sinterklaas season is mainly a children's festival because December 6th is a special day for children, rather than whole families as in the Netherlands. St. Nicholas visits Flemish children more than once. He visits in schools, sports clubs and homes, asking children if they have done their best in the past year. He checks in his big book to see if they are telling the truth. In shops and department stores, St Nicholas sits on a throne and children queue to greet him and receive a small gift. St. Nicholas also makes appearances at the special St. Nicholas circuses that are popular in Belgium. Saint Nicholas churches often collect toys and gifts for the needy at special services honoring the saint.
The Belgian postal service, bpost, has had a long tradition of responding to children's letters to St. Nicholas. In 2016, for the first time, 2, 200 red mail boxes were distributed. Decorated with a miter and beard, they remind children and parents to send their letters to Saint Nicholas. The 30 workers at the Saint Nicholas Secretariat processes over 10, 000 a day; each child receives a note and surprise from St. Nicholas. This comes on December 6th if the letter was received by December 1st. The number is up 40% over 2015 and 300, 000 are expected this year. The address is Saint Nicholas, No. 1 Paradise Road, 0612, Heaven.
On St. Nicholas' Eve, December 5th, or the weekend before, children put their shoes or small baskets at the hearth or beside the door with hay, water, carrots or turnips, and a sugar lump for the saint's horse and a glass of wine for the saint. There may also be a picture they've drawn (or a list) showing what they would like. They believe St. Nicholas rides on horseback over the rooftops, dropping his gifts down the chimneys. In the morning shoes have been filled with chocolates, spiced speculoos cookies shaped like the saint and Piet, oranges, marzipan, and toys. In the spirit of St. Nicholas, treats are meant to be shared, not hoarded. Bad children, of which there are none, would find twigs. Since the sixties such negative and frightening aspects have faded away in Flanders.
In the East Flanders town of Sint-Niklaas, the saint brings his treats the weekend before the 6th of December. The following Monday is an elementary school holiday which gives children a three-day-weekend to play with their new toys. This tradition grew out of the annual fair, held in the market square the week before December 6.
St. Nicholas also visits places of business, even some very large ones. He encourages employees to be considerate of one another, gives everyone candy, and carries bad employees off in his sack! The workers all get gifts to take home to their children, or the children may choose to give the gifts to someone more needy.
In French-speaking Wallonia St Nicolas comes, as well, where he is often accompanied by a donkey and Père Fouettard, as in France. Some places celebrate similarly to that in Germany. Everywhere in Belgium speculoos shaped like the saint is very popular.
The biggest picture ever of St. Nicholas was put together by Belgian toy specialist DreamLand in 2016. Hundreds of kids colored pictures digitally through their website. The colored pictures were assembled into a giant collage 8 metres wide and 6 metres high. This giant mural was presented to St. Nicholas on the 27th of November during one of the VTMKZOOM St. Nicholas Weekends in Plopsaland De Panne. Children who colored the pictures also received a large coloring poster picture almost 1 metre wide to color at home and hang up to welcome St. Nicholas.
Source: www.stnicholascenter.org