Bacchus Beer Belgium
Beer Style
Old Flemish Brown Ale
The Beer
In the same vein that gueuze beer typifies the Pajottenland region, this beer is also a genuine Flemish regional product. In the Roman pantheon, Bacchus (son of Jupiter) was the god of wine, inebriation and general drunkenness.
When Luc Van Honsebrouck decided to stop brewing pils, he clinched a deal with Krüger from East Flanders. Krüger would start serving Bacchus in his cafés and quid pro quo, Luc would sell Krüger pils in his establishments. Proportionally, Bacchus was in far greater demand.
The beer's real breakthrough came in 1975 when the demand for Rodenbach (another 'Oud Bruin') increased exponentially and the brewery was unable to keep up with demand. Thus, the production of Bacchus was stepped up. Within a few years' time, production increased to around 25, 000hl.
Alcohol
4.5 % ABV
Fermentation
Mixed fermentation, matured in oak barrels.
Ingredients
Bacchus is brewed with natural basic ingredients: water, malt, hops, yeast and sugar.
Colour & Transparency
Bacchus is a genuine 'roodbruin' beer with crystal clarity. It is very noticeable that this beer has matured in used wine barrels. Offers a rich and creamy head when poured correctly.
Serving Temperature
5 °C / 41 °F
Serving Glass
In common with all beers in the Castle Brewery Van Honsebrouck range, Bacchus has its own glass and its own logo. It may not be the most modern or elegant drinking vessel but there is no need for that. This glass gives off a vintage vibe that is a perfect fit with this artisanal and traditional beer.
Character, Tastes & Aromas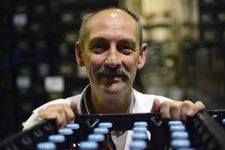 Fruity aroma, touches of wood and vanilla. Mildly and fruitily sour, although compared to many other beers of the Oud Bruin type the sour taste is less pronounced.
Also comes with accents of red wine and gives a pleasantly long finish.
Culinary
This beer was not designed to be a culinary or gastronomic beer, unlike some other beers within the extensive Van Honsebrouck range. It goes without saying that Bacchus is one of the oldest products offered by this brewery.
This beer does have wine-like touches though, which makes it eminently suitable for use in the kitchen or to accompany and enhance a range of dishes. As long as you take into account the slightly sour accents it gives you.
Keeping and Storage
Bacchus can be kept for a period of time and will undergo a taste evolution.
Availability
Bottle ✔ On Tap ✔
Nevertheless, Bacchus remains (together with the raspberry and cherry versions) an important pillar supporting the range of beers offered by Castle Brewery Van Honsebrouck. It is produced all year long but may be a bit harder to obtain in supermarkets than the general Kasteel range.
Although, thanks to the brewery's flourishing export business, you can get hold of this beer outside of Belgium.
Comments
You must be logged in to leave a comment
POSTS
'Het Bierkasteel' - My home is my beer castle
IZEGEM - Brouwerij Van Honsebrouck is proud to present 'Het Bierkasteel' (the Beer Castle); a brand new multi-purpose space designed and built for events, relaxation, brewery visit and beer experiences. [ more ]
Brewing for the future with Castle Brewery Van Honsebrouck
IZEGEM/INGELMUNSTER - Summer 2015: the first test brews are flowing out of the tanks at Castle Brewery Van Honsebrouck's new brewery in Izegem. There have been no rash or rushed decisions from these brewers. [ more ]
Masters of Brewing: Hans Mehuys from Castle Brewery Van Honsebrouck
INGELMUNSTER - Hans Mehuys has been wielding the mashing stick at the Van Honsebrouck brewery for over a quarter of a century. Six years ago he was appointed as Brewmaster and Head of Production. [ more ]
Xavier Van Honsebrouck, a rebel with a cause
INGELMUNSTER - The inhabitants of West Flanders are known as entrepreneurs. The region around Kortrijk is considered to be the 'Texas of Belgium'. Exaggerated? Read the story of Castle Brewery Van Honsebrouck and you wil... [ more ]
Source: belgium.beertourism.com