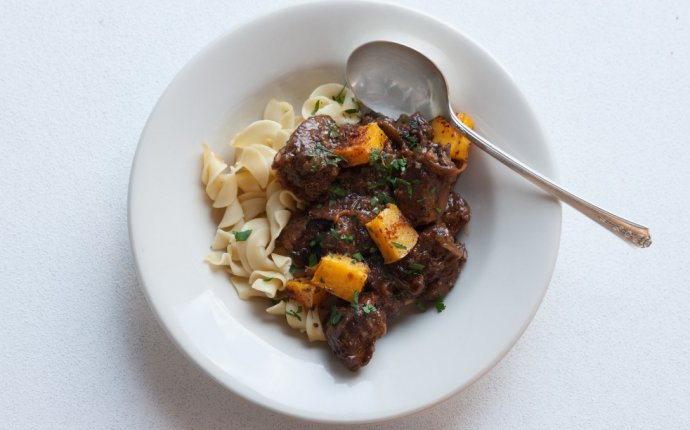 Belgian Beef Stew Recipe
Photography Credit: Elise Bauer
When the days are cold, dark, and damp, all we really want to do around here is to curl up with a nice big pot of stew. Known as "Carbonnade a la Flamande", this Belgian beef stew is made with hearty Belgian ale and plenty of onions. The flavor is a little sweet and sour, the sweet from the onions and either a little added sugar or tomato paste, and the sour from a touch of mustard or vinegar.
Since I first posted this recipe I've made a few adjustments to the recipe itself, and we've received several recommendations for which ale to use (check the comments). The general view is that you should try to use a Belgian ale for this stew. If you can't find a Belgian ale, or a Belgian-style ale, you can try Newcastle Brown Ale or Anchor Steam (the last two recommended by Cooks Illustrated for their carbonnade).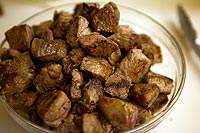 We found a couple American ales made in the Belgian style at our local Whole Foods and for our most recent batch of stew used a bottle of Ommegang Abbey Ale. Apparently it is also traditional to include some beef liver with the stew.
We passed on this, but if a stew exists that could hold up to the strong flavors of liver, this one would be it. Wonderfully hearty, flavorful, and filling.
Print
You are trying to achieve a sweet and sour flavor with this stew. So, you can swap out the sugar for tomato paste and you can use cider vinegar instead of mustard if you want. You can also brown the meat in vegetable oil instead of butter, though it will be more flavorful with the butter.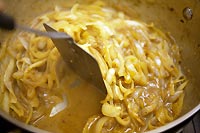 You can also use a couple slices of bread, instead of adding flour, to thicken the stew.
Ingredients
3 1/2 lbs chuck roast, cut into 1-inch pieces
Salt and freshly ground black pepper
4 Tbsp butter
3 medium yellow onions sliced about 1/4 inch thick (about 8 cups)
3 Tbsp all-purpose flour
1 1/2 cups chicken or beef broth
1 1/2 cups (12 oz bottle) Belgian beer
4 sprigs fresh thyme
2 bay leaves
1 Tbsp whole grain mustard
1 Tbsp brown sugar
Source: www.simplyrecipes.com