Belgium Beer Cafe Southbank
Name Belgian Beer Café Melbourne Address Phone 03 9690 5777 Website Website Social Media Links Regular events
Mon: Local's night $20 mains
Tue: Trivia + half price tap beer
Wed: $20 steak night
Thur: Beer and burger for $20
Sun: Mussel Madness - pot of mussels for $20
July 21: Belgian National Day celebrations
Hours
All week: 11am to 1am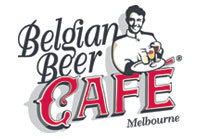 Back before there were such things as craft beer bars in Melbourne, there were the Belgian Beer Cafés in St Kilda Road and at the base of the Eureka Tower. Today, while the former has evolved into Village Melbourne, the latter maintains the Belgian Beer Café moniker, stocking a wide selection of Belgian beers both on tap and in bottle while doing plenty of evolving of its own.
Under the stewardship of highly knowledgeable and passionate staff, it is one of the best places in Melbourne to undertake a journey through the world of beer, with its eight rotating taps (out of 33 in total), and a 170-plus bottle list offering a colourful collection of the finest beers plucked from all corners of the world in pretty much every style imaginable.
Back when it first opened in 2005, before the Eureka Tower it calls home was even completed, Chimay, Leffe and Duvel were exotic; today they are mainstays while, since the middle of 2012, the best from local microbreweries and internationals such as Rogue and Mikkeller have been keeping their regulars happy.
For the most part, the action takes place in the light and airy downstairs bar and adjoining outdoor terrace looking across to Melbourne's Southbank. There, dapper staff serve beer immaculately in style-appropriate glassware, while the kitchen offers a mix of Belgian inspired dishes and more typical pub grub. And, while the star attraction remains the beer, you can choose from a fine selection of wines and spirits too.
The large upstairs area has become a popular space for both private and corporate functions, as well as being the location for their beer dinners and serving as the restaurant when the various downstairs sections are booked out. Lunchtime trade is healthy since the introduction of their $15 express lunch menu, which includes, among other things, veal schnitzel and what staff there reckon is the best steak sandwich around.
Source: craftypint.com