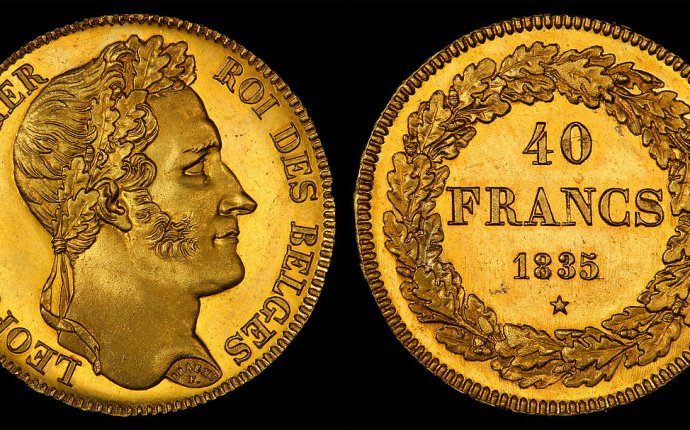 Belgium coins value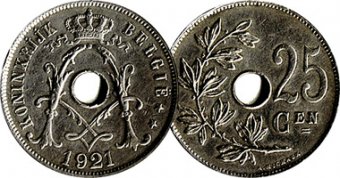 Belgium 5, 10, and 25 Centimes 1901 to 1931
The hole in the center, of course, is the main distinquishing feature of these old coins from Belgium. There are several variations on this theme, and we will attempt to cite them all for you. Just about all of these coins are not very valuable, worth a few US dollars.
First, there are two flavors for the inscriptions on these coins. One is Dutch: KONINKRIJK BELGIE; one is French: ROYAUME DE BELGIQUE. These inscriptions do not affect value except in a few rare cases (see below).
Second, coins dated before 1910 have a different pattern on the front, but the same pattern on the back.
Third, most of these coins were minted in copper-nickel, but some, dated after 1929, were minted in nickel-brass and some were minted in zinc. Look for the star to find nickel-brass coins.
Fourth, 1901 is a transitional date for several Belgium coins. Check this CoinQuest page if your coin is dated 1901 for a comparison to other, similar coins. This page applies only to coins that look like this picture.
Finally, the major denomination difference is plainly shown by large numerals 5, 10, and 25 on the back of the coin.
With all those preliminaries out of the way, here are the catalog values for these coins:
5 CENTIMES:
worn: less than $1 US dollar approximate catalog value
average circulated: $1
well preserved before 1904: $5
well preserved after 1904: $3
10 CENTIMES:
worn: less than $1 approximate catalog value
average circulated: $1
well preserved before 1904: $5
well preserved after 1904: $2
25 CENTIMES:
worn: less than $1 approximate catalog value
average circulated: less than $1
well preserved: $2
These are catalog values (use our Important Terminology page for its definition) for all of the coins in the series, except a few *better dates* which are worth more. The list below shows the good ones in average circulated condition:
1901 5 centimes BELGIQUE: $60
1901 10 centimes BELGIQUE: $35
1903 5 centimes BELGIQUE: $20
1903 10 centimes BELGIQUE: $6
1926 25 centimes BELGIQUE: $4
1930 5 centimes BELGIE minted in copper-nickel: $30
1930 10 centimes BELGIQUE minted in nickel-brass: $180
1931 5 centimes BELGIE minted in copper-nickel: $40
1931 10 centimes BELGIE minted in nickel-brass: $100
1932 5 centimes BELGUQUE minted in copper-nickel: $30
Source: coinquest.com