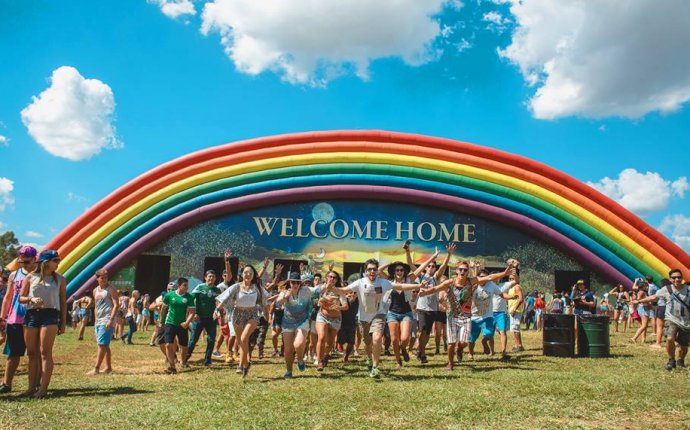 Dreamville Belgium
If there was one chorus that Heather and I couldn't stop repeating to each other during out time at Tomorrowland, it was how insanely overjoyed we were with our decision to camp at the Dream Lodges in DreamVille. I mean, can you blame us for occasionally tossing around the idea of foregoing the festival altogether and just chilling here all day?
It had been a decision fraught with a fair amount of hand-wringing. Part of the reason I'm writing this in-depth post is to help others looking for DreamVille information in the future. Trying to find clear information about Tomorrowland and/or DreamVille is like attempting to get a live person on the phone regarding your flight rerouting during a major storm at JFK on Thanksgiving weekend — you might as well just light yourself on fire now and save yourself the frustration. Oh, and unless your goal is doubled over laughter at the the true depths of failure to which customer service can sink, don't attempt to reach out to anyone at the Tomorrowland help desk.
So, we were somewhat in the dark about our choices. While of course there is always the option to stay in a hotel in Brussels or Antwerp and shuttle into the festival each day, or even take advantage of one of the handfuls of rooms rented by enterprising Boom residents, we were set on staying on site with 35, 000 of our fellow ravers. Here are the options in DreamVille.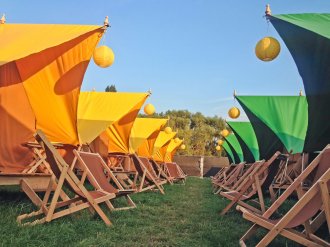 • General Camping: This option allows you access to the general camping zones of DreamVille. You must bring your own tent and camping gear. This is the only option available for solo travelers who don't want to pay double — all other packages are sold by tent or by room rather than by person, and are meant for groups of two or four. You can buy a group camping pass which will allow large groups of friends to stay together in a special area. We did not consider this option as we were traveling internationally to the festival and did not want to deal with acquiring the necessary supplies upon arrival in Belgium. Cost: €52.50 or $67 per person.
• Easy Tent: This option allows you to rock up to DreamVille with a Tomorrowland-branded tent all set up and ready to go — there's even a light inside. Easy tents are contained in their own special area slightly closer to the festival grounds than general camping. Tents are available for two or four people. We considered this option, but were concerned about how we'd feel either leaving our valuable unlocked or trudging to the campground lockers every time we needed something, and as two photographers we were concerned about charging our devices. Cost: €137.5 or 5 per person.
• Relax Rooms: Relax Rooms and Dream Lodges are contained in their own luxury compound in DreamVille's closest edge to Tomorrowland. Strangely similar in appearance to storage containers, the Relax Rooms boast comfy beds, lights, power outlets and a clothing rack with hanging shelves — and of course, a lockable door. We considered this option but were concerned it would be stuffy inside once the sun came up. Cost: €475 or $603 per person.
• Dream Lodges: In the same plush suburb of DreamVille as the Relax Rooms, Dream Lodges were a new option in 2014 and so we were made somewhat nervous by only being able to reference digital renderings. Still, they promised plush beds, lighting, power outlets, a locker, and a cozy looking porch with two relaxing chairs and a table. Dream Lodges are available for two or four persons. Cost: €525 0r $661 per person.
• Mansion: There are no prices listed and as my Dad always says, if you have to ask, you can't afford it. Didn't consider.
Note that it is impossible to buy a DreamVille pass without a Tomorrowland ticket, the price of which is not included here. Specific bracelets meant only those registered to the special camping zones — Easy Tents and Relax Rooms/Dream Lodges — were allowed in those areas. Security was tight.
Eventually we narrowed it down to Relax Rooms or Dream Lodges — we realized our enjoyment of the festival would be multiplied tenfold if we could lock up our laptops (we both work online and were on long-term trips so having them there was non-negotiable), charge our cameras and phones, and sleep on a real mattress at night. After roughing it at Burning Man I was ready for some creature comforts and considering how hard it is to get tickets, we realized this was probably a once in a lifetime experience and thus something to splurge on. We were a bit confused however since the online descriptions indicated that the Relax Rooms had access to better facilities, despite being cheaper. In the end, though, fate made the decision for us — by the time we got through to the purchase page, only Dream Lodges were left as an option.
And we couldn't have been luckier for it.
From the moment we checked in with a pink-toga-and-flower-headdress wearing receptionist we knew we were in for something special. Dream Lodges and Relax Rooms shared the same reception and communal spaces, including a private gourmet dining room, an on-site masseuse and hair team on call for pampering, bathroom areas boasting warm water showers and flushable toilets, and a friendly — and flamboyantly costumed — staff and security team.
So how much did I love camping at the Dream Lodges? Let me count the ways.
1. Home Sweet Home
While a few things weren't quite as implied — the promised power plug was not a socket but just a USB port and the locker was laughably too small to fit dSLR cameras — we were pretty wildly in love with our little tent. The beds were insanely comfy and the set up was very communal, which meant we made fast friends with our neighbors over long chats in our deck chairs.
Every morning we woke up to a Tomorrowland newspaper on our porch, often accompanied by a little gift, like burlap bags of chocolate-covered almonds or cold bottles of Tomorrowland-branded water.
2. The Middle Party
All three days of the festival followed the same formula for us — venture in during the day and have a few hours of sun-filled fun, retreat back to DreamVille for what we quickly dubbed "The Middle Party" (who needs after parties?) and then head back out into the night, recharged and ready to rage. Goofing around at our campsite and getting silly with our fabulous neighbors — we couldn't have lucked out more in that department — ended up being some of my favorite memories of the weekend.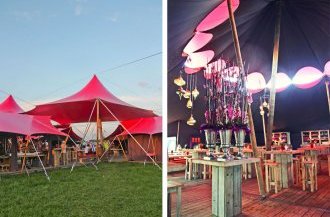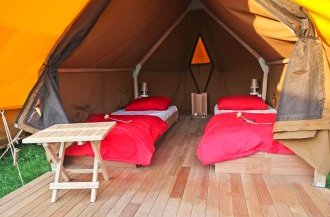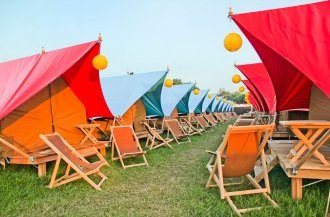 Source: www.alexinwanderland.com