Ferry UK to Belgium
You can use AFerry.co.uk to book ferries to Belgium including Zeebrugge from England. Using AFerry.co.uk will always get a great deal on your ferry to Belgium. See below for timetables and the latest special offers.
How to book your ferry to Belgium
Booking a ferry to or from Belgium couldn't be easier with AFerry.co.uk. You can either use the booking form at the top left of the page. Or, if you see a price you like on the left, just select the number of passengers and click go.
More About Belgium
Belgium is a small but famous and influential country which shares borders with France, to the west, and the Netherlands, Luxembourg and Germany to the East.
Belgium is a modern and highly developed country. Visitors will appreciate not only the beauty of its towns and cities but also the high standard of living that can be seen in this country, as well as its excellent infrastructure and public transport.
There is plenty to see and do in Belgium. The main cities of Brussels and Antwerp offer a wide range of attractions and activities and both have a rich and interesting culture which you can experience.
Of course many visitors to Belgium travel to see Bruges, with its famous architecture and canals, as well as its restaurants and chocolate.
Belgium Travel Guide
Belgium is a country that welcomes tourists with open arms. With plenty of sights and local delicacies, there is never a dull moment in this small yet industrious country.
Belgium is a small, highly developed and densely populated country (10 million people) at the cross-roads of Western Europe. Belgium is one of the founding members of the European Community and is the seat of NATO and its capital.
With a ferry to Belgium, you will see it has a high standard of living. That is evident in its excellent food, housing, health care, education and infrastructure, its world records for high productivity and low poverty, and the appreciation of foreigners residing in the country.
Belgium's immediate neighbours are France to the southwest, Luxembourg to the south east, Germany to the east and the Netherlands to the north. There are regular Belgium ferries to the UK too including the popular Hull to Zeebrugge route, operated by P&O Ferries .
Dutch and French are both spoken in Belgium. The weather is seasonal, with warm weather from May to September and snow likely during winter months.
Travel in Belgium
Belgian National Railway has a large rail network with regular and frequent trains on most lines. To travel by car, traffic drives on the right. Main towns are connected by toll-free motorways. Motorways are designated by a white `E' on green signs, other trunk roads by the prefix `N', and minor roads by a `P'. because of its size, there are no internal flights in Belgium. The port town of Ostend is conveniently located right next to the rail station.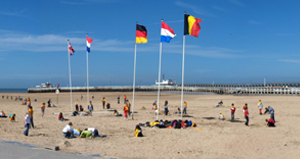 Belgium's sandy beaches are popular with tourists from Holland and Germany
Things to see
Visit a reinvented Antwerp, which is now regarded by some as a hotbed of fashion and modern design, or visit the political capital of the new Europe, Brussels. Admire the medieval heart of Ghent which boasts many historic buildings, including three abbeys. Key attractions include St Bavo's Cathedral, the place of Charles V's baptism and home to The Adoration of the Mystical Lamb, the Van Eyck brothers' masterpiece.
One particularly iconic sight in Brussels is the Manneken Pis, a statue of a small boy urinating into a fountain. There are many stories behind this statue, all of which you will be able to hear when you visit. The Manneken Pis has several costumes, so you will often see him dressed up.
Source: www.aferry.co.uk