Poppies Hotel Belgium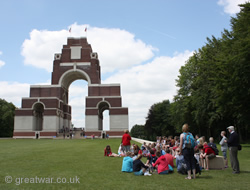 The hostel information featured below is provided on this site as a guide to help organizers of groups including schools and the military. We advise you to make contact with the hostel listed here directly if you wish to know more details and make reservations.
Poppies d'Albert - International School Hotel
This is purpose-built, high quality accommodation especially designed for groups. It is located in the centre of Albert and within easy reach of the 1916 and 1918 battlefields of the Somme. The centre of the town of Albert is about five minutes' walk from the Poppies d'Albert School Hotel.
This accommodation is owned and managed by Stefan Stefaan Vanderstraete, being a sister hotel to three school hostel/hotels in Ypres - Ieper, Belgium, namely The Menin Gate B&B Hostel, The Poppies B&B Hostel and The Salient School Hotel B&B.
Facilities:
All single beds or bunk beds
Shower, toilet and washbasin(s) in every room
Central heating
Free wireless internet access
Entertainment: games room, internet suite, football pitch and swimming pool close by.
Source: www.greatwar.co.uk