THON Hotel, Belgium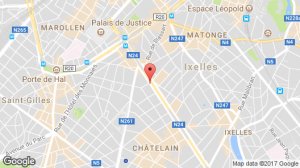 Collect 200 Nectar points!
Simply enter your Nectar card number when you check out. Your points will be credited 35 days after you return from your trip.*Offers may apply
Popular property highlights
Free WiFi
Restaurant
Business centre
Laundry facilities
Smoke-free property
On Avenue Louise
Set on Avenue Louise, amidst some of the finest shopping in Brussels, this hotel is within 2 km of the Royal Museum of Fine Arts and the antique district. The Louise Metro Station, with connections to the Eurostar Terminal and Brussels-South Railway Station, is within 600 m.
Piano bar
The contemporary hotel offers a fitness room and sauna, complimentary wireless Internet, business center, a casual bar with live piano, and a unique restaurant with Scandinavian decor and French cuisine.
Minibars in rooms
Bristol Stephanie's 142 spacious guestrooms feature complimentary wireless Internet access, laptop-compatible safes, minibars, and white-marble bathrooms.
Information missing or incorrect? Tell us!
Source: www.expedia.co.uk