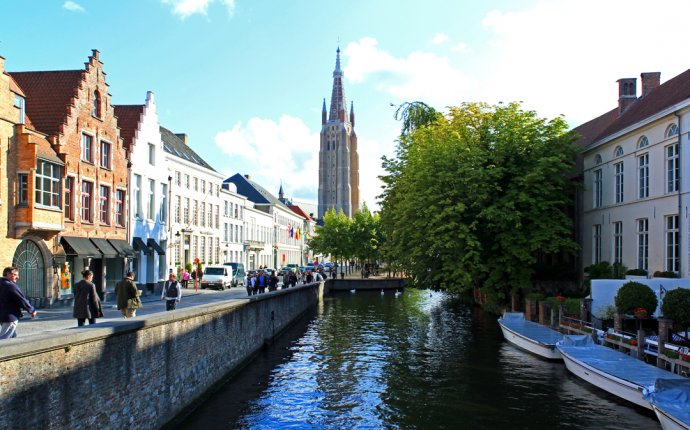 West Flanders, Belgium
West Vlaanderen (West Flanders)
Guide to West Vlaanderen (West Flanders) Province ancestry, family history and genealogy: birth records, marriage records, death records, census records, parish registers, and military records.
Research Methods
Most of your genealogical research for West Vlaanderen will be in two main record types: civil registration and church records . This article will teach you methods for locating and searching these two record groups.
Civil Registration
Civil registration records are government records of births, marriages, and deaths.
Dates: Civil registration began around 1795-1796 while under French rule.
Contents:
Births: Child's name, birth date and place; parents' names, residence, and occupation, witnesses' ages, relationships, residences; yearly indexes.
Marriages: Bride and groom names, ages, residences, occupations; sometimes ages and/or birth dates and places, parents' names, marriage date and place, residences, occupations, witnesses and officer who performed ceremony, former spouses, yearly indexes.
Marriage proclamations: Names of prospective marriage partners, intentions, residences, parents, etc.
Marriage supplements: Names of marriage partners, documents showing proofs of births, parents, deaths, prior marriages or divorces, proclamations, consents, contracts, etc.
Death registers: Deceased's name, age, death date and place, occupation, name of surviving spouse, informant's name and residence, cause of death, sometimes birth dates and places, parents' names, children's names, yearly indexes.
Divorces: Listed on the back of the marriage registers in the municipality where the marriage took place. Includes names, ages, dates and places, occupations, residences.
Multi-Year-Indexes: Additional two, three, five and ten year indexes to births, marriages, divorces and deaths. Some are alphabetical, others chronological, by first letter of the surname, all letters, and given names.
Language: The major languages of records in Belgium are Flemish (Dutch) in the North, and Walloon (French) in the South, and German in the East. To understand the records, you only need to know a few typical words such as those for mother, father, born, name, bride, groom, married, etc. Translation of these words are found under Online Digital Records for Civil Registration below and also on word lists for: Dutch, French and German.
Accessing the records: Digitized, online civil registration records until 1912-3 are available through FamilySearch Historical Records and the National Archives. For more recent certificates, you need to write to the state, provincial, or municipal archives.
1. Online Digital Records for Civil Registration
For some localities, digital copies of civil registration can be searched online:
1582-1910 - Belgium, West Flanders, Civil Registration, 1582-1910 at FamilySearch —free, index, incomplete.
1582-1910 - Belgium, West Flanders, Civil Registration, 1582-1910 at FamilySearch —free, browseable images, incomplete.
Dutch titles for recorded events: "Geboorten" means births. "Huwelijken" means marriages. "Overlijden" means deaths. "Huwelijksafkondigingen" means marriage proclamations. "Huwelijksbijlagen" means marriage supplements. "Tienjarige tafels" means 10-year indexes.
French titles for recorded events: "Naissances" means births. "Mariages" means marriages. "Décès " means deaths. "Publications de mariage" means marriage proclamations. "Pièces de mariage " means marriage supplements. "Tables décennales" means ten-year indexes.
German titles for recorded events: "Geburten" means births. "Heiraten" means marriages. "Toten" means deaths.

2. Online Digital Records at the State Archives
Civil registration digital images are also online from the State (National) Archives (Rijksarchief in België), for records at least 100 years old. You will need to complete a free registration here: Register.
This address leads to the Zoekrobotten-Search Robot (or Search Engine) which leads to several search options:
3. Microfilm Copies of Civil Registration Records Searched at a Family History Center
There are may be microfilmed records available but not included in the online collections above. Held in the collection of the Family History Library, these microfilms may be viewed at Family History Centers around the world. To find a microfilm:
a. Click on this link to see a list of records for Belgium, West Vlaanderen. b. Click on "Places within Belgium, West Vlaanderen" and a list of towns and cities will open. c. Click on the town or city you wish to search. d. Click on "Civil Registration" topic. Click on the blue links to specific record titles. e. Choose the correct event and time period for your ancestor. f. Some combination of these icons will appear at the far right of the microfilm listed for the record. . The magnifying glass indicates that the microfilm is indexed. Clicking on the magnifying glass will take you to the index. Clicking on the camera will take you to an online digital copy of the microfilm. Clicking on the microfilm reel will lead to information on how to rent the film. Family History Center staff will assist you in ordering the film.
4. Writing for Civil Registration Certificates
For the more recent records (since 1913), the locality keeps one copy and the other copies are turned over to the State Archives (Algemeen Rijksarchief/Archives Générales du Royaume in Brussels, or Rijksarchief in de Provinciën/Archives de l'État in the provinces). Researchers can access them by contacting:
The National Archives
Algemeen Rijksarchief Ruisbroekstraat 2
Brussels 1000
BELGIUM
Telephone: 32 2 513 76 80
Fax: 32 2 513 76 81
or
The archives of the municipality
Gemeentebestuur
De Ambtenaar van de BURGERLIJKE STAND
Gemeentehuis
BE - (postal code) (name of municipality)
Belgium
What to send:
Send the following:
A request for them to tell you the fees and how they should be paid.
Full name and the sex of the person sought.
Names of the parents, if known.
Approximate date and place of the event.
Your exact relationship to the person.
Reason for the request (family history or medical).
Request for a complete extract of the record

Church records are vital records kept by priests and are often called parish registers or church books. They include records of christenings (baptisms), marriages, and deaths (burials).
Church records are crucial for research before the civil government started keeping vital records, which began about 1796.
Roman Catholicism has been the pre-dominant religion in Belgium.
Source: familysearch.org