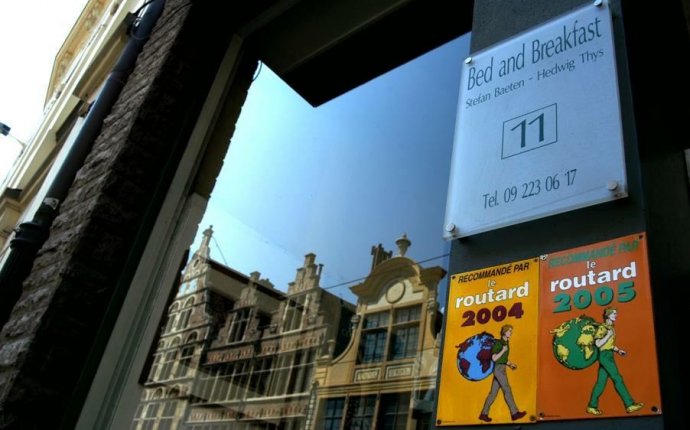 Bed and Breakfast Ghent, Belgium
L'entrée d'artistes@historical Ghent is a very popular compact, small, sunny room provided with all the facilities.On 7'walk from the Graslei, Castle provided with microwave/fridge/priv.bathroom(see photos)2 bikes, towels, bedding, bathrobe, hairdryer, coffee, thee, milk( incl) Breakfast is optional and only possible if it fits to my working schedule in the opera (extra 9€ p.p.n. in the fridge or larger served breakfast 12, 50€ p.p.n.) but there are numerous breakfast possibilities in the neighbourhood.
"L'entrée des artistes, the Guestroom of Ghent" with or without breakfast* (see lower) is a self contained newly renovated compact little studio, with all modern new materials, located in the centre of Ghent, with breakfast options* The room is not big, but everything you need is there. (see description lower) The house is located on the historical Fratersplein, with the statue of Pedro de Gante en opposite the house, the Carthusian monastery where the Treaty of Ghent was signed in 1814. It's 100-600m away from the Patershol, Graslei, shoppingstreet etc. We choosed for a brand new transformable seatbed with a very good mattress equal quality as a bed, confirmed by the guests. The seatbed gives the possibility to transform the bed into a seat during the day to tranform the space into a living room. As a musician I'm working with a lot of musicians from all over the world. To satisfy their quest for a nice place to stay during rehearsals and concerts, I renovated and reorganized this extra room as a semi self contained guest room with own brand new bathroom including a shower, rain shower, toilet, table, chairs, micro wave, fridge, TV, a bed with a good mattress and ergonomic pillows that can be transformed into a seat during the day. etc. The location is one street away from the famous Patershol, the Gravensteen, 5 minutes walk to the Graslei, etc. This guest room is ideal for a single traveler, while accommodating up to two. It comes with one double seat bed (Ikea Lyksele with the best Havet Mattress and ergonomic pillows (Pliable mattress in high resilience foam and latex moulds itself to the shape of your body; has extra long lifespan and is suitable for use every night. - Mattress with high resilience foam and a top layer of latex which moulds to your body and helps keep your spine straight. - Latex facilitates air circulation in the mattress and helps moisture to evaporate. and a brand new bathroom with a rain shower, hair dryer, sink, mirror and towel holder. Guest room amenities include the brandnew TV, own refridgerator, microwave, coffee machine, Wi-Fi & high speed internet access. There is a new cozy thick carpet on the original brazilian slates. The room is part of an old mansion and the original mantelpiece gives an extra charm to the room. The room is located directly at the frontdoor, no steps to do climb. There is a central heating in the room provided by a new condensation boiler on the 3th floor of the house. The ventilation goes through a ventilation system D. There is a toilet with a hand wash sink in the room with an entrance outside of the (URL HIDDEN) kitchen corner is provided with a table, two chairs, a coffee machine, a microwave, 2 cups, a juicer, saucers, plates and five bowls to heat a dish in the microwave. * Breakfast: We offer 4 breakfast options: 1) For an additional fee of 9, -€ per person, the mini fridge will be filled with cheese, ham, milk, chocolate milk, orange juice, choco, jam and a fresh orange. Fresh bread will be delivered at your door in the early morning. 2) For an additonal fees of 12, 50-€ per person, a larger breakfast will be served on the first floor, cheese, ham, milk/chocolate milk, jam, choco, honey, butter, fresh orange juice, a cooked egg, muesli, yoghourt, fresh coffee or tea, home made bread, a croissant. 3) If you don't wish us to provide breakfast, you are free to fill the mini fridge with your own choice of food. There are several local shops such as Lidl just across the road, Turkish shops just around the corner, Carrefour near the Gravensteen and the Musketiers to name a few. 4) If you prefer having breakfast in the neighbourhood, there are several options: * buy a takeaway breakfast at Texaco just across the road including 2 croissants & coffee for only 3€ * For 7, 5 - 15 € there is a breakfast in the HEMA on the Kouter. * 'Simon Says', 'Sluizeken 8' or 'Julie's house' at Kraanlei 13 Brooderie at "Jan Breydelstreet" * Several upmarket eateries on Graslei, Veerleplein, Groentemarkt (5 minutes walk) As I'm a full time working musician, sometimes only the first, (and of course) third and fourth option is possible. If I have early rehearsals, the second option = served breakfast is not possible.
Centre of Ghent: one of the most beautiful places to be. Centrum van Gent: één van de mooiste plaatsen om te vertoeven.
Owner Ann gave us a very warm welcome. The warm welcome already started from home as she replied to questions very quickly and gave us lots of great restaurant and bar tips. The room is small but cosy and has all you'll need. Room, toilet etc. were very clean, the bed is good and comfortable, the shower nice and hot. Breakfast was good although we could not finish it all. Great that the breakfast included extra bottles of water and some snacks we could take with us. We were only passing through so only got to spend one evening/night in Ghent but we wil definately come back!
Ann was a great host! I arrived a bit early but she recognized me and opened her home to me. The room was perfect with everything I needed and if I requested something else Ann happily provided (such as adapter for charging phone/laptop). Her breakfasts were delicious and abundant. Ann's home is within easy walking distance to all of Historic Ghent and in a very pleasant area. I would stay there again and highly recommend Entree des artistes!
Ann is extremely friendly and welcoming. The apartment is a short walk from the town centre and the room is every bit as cute as in the pictures. I really loved my stay here.
Ann has been the perfect host.Since the firts messages we exchange she was cute and always with the right mood. She had not problem at all about our arrival to her flat.The welcome has been very very warm!She welcome us with her family, amazing music and 2 glass of wine. As Italian I can say it was an exellent wine!Ann's family is very nice, composed by 2 guys and Oscar: a soft and cute dog.Ann suggest us place to eat and to hang out with good music., she also played her violin for a while.and this was just the welcome!The room was clean and "familiar". Our day in Ghent passed too fast, but the central position of Ann's apartment allowed us to be in the center in 5 minutes walking. Ghent is a very nice and medioeval city, but Ann make our stay in this city even more interesting.We'll come back! Promise!Manuela and Antonio
Centrally located, just few minutes walk from center of the city. Ann was away on a musical tour but her son was very helpful. The room was clean with private bath and shower.
Source: www.airbnb.com