Belgium Brussels Airport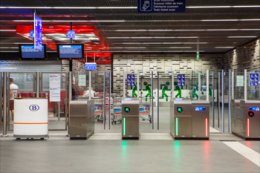 The airport train station is located below the terminal (basement level-1).
International trains
Brussels Airport is connected directly to the major cities in the Netherlands.
Up to 16 trains a day will take you to Amsterdam via Dordrecht, Rotterdam and The Hague.
Travel time:
Dordrecht: 1 h 30 min
Rotterdam: 1 h 45 min
The Hague: 2 h 05 min
Amsterdam : 2 h 55 min
Or you can change trains at Brussels Midi station and take the Thalys hst to Paris or Cologne or the Eurostar hst to Lille or London.

National trains
Take the train to conveniently travel from Brussels Airport to the major cities in Belgium.
Brussels Airport-Zaventem station is located on level -1 of the terminal, at a small distance from the arrivals hall (2nd floor) and the departures hall (3rd floor).
Travel time to the major Belgian cities:
Antwerp : 32 min
Bruges : 90 min
Brussel-Central : 17 min
Charleroi : 83 min
Ghent : 54 min
Liège : 60 min
Leuven : 15 min
Mechelen : 11 min
Namur: 72 min
Ottignies : 42 min
Source: www.brusselsairport.be