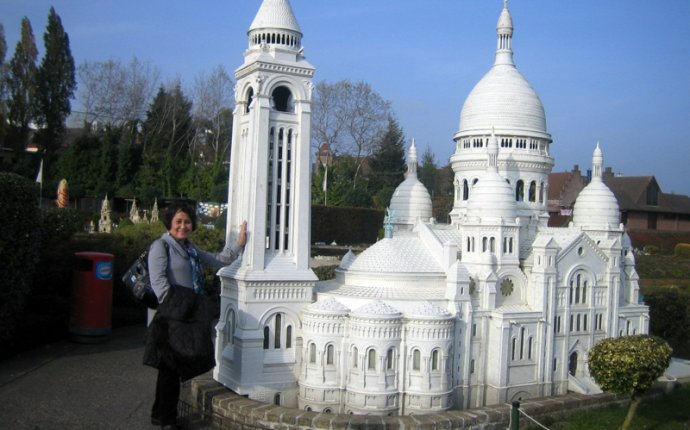 Belgium Brussels Attractions
Don't let Belgium's relatively small size fool you, since it has more to do per square mile than most other places on earth. And best of all for the traveler, it's a comparatively easy place to get around and English is widely spoken.
By Jim Ferri
Despite it being one of the most popular and beautiful countries in Europe, Belgium confuses many travelers.
The crux of the problem, as it often is, is political.
The country is divided into two ethnic regions, Dutch-speaking Flanders to the north and French-speaking Wallonia to the south. An imaginary east-west line that bisects the country at Brussels, divides the two regions. Consequently, Brussels is a city claimed by both the Flemish and the Walloons.
Although this is a major political conundrum for the Belgians, for the traveler it's inconsequential. Just forget the politics. In other words, focus instead on the cornucopia of culture, historical places and beautiful towns and cities throughout the country.
Visit Brussels, the self-proclaimed "Capital of Europe, " and wander around the magnificent Grande Place. See great museums such as the Magritte, dedicated to Belgium's famous surrealist painter.
Also, cruise the canals and walk the lanes of popular and beautiful Bruges and Ghent. Also be sure to visit such treasures as Liege and Spa (luring spa-goers since the 14th century). In addition, historic Bastogne, made famous by the Battle of the Bulge in WWII.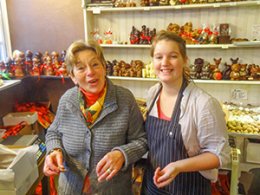 Since cuisine is as highly regarded as the masterpieces in its museums, and you'll certainly eat well wherever you go. If you're up north in Flanders in August, you can get a Taste of Antwerp at Belgium's largest culinary festival. Also visit Oostduinkerke on the Flemish coast for the shrimp festival in June, and Bruges Kookeet food festival every September.
Just remember that "If It's Tuesday This Must Be Belgium" was a comedic spoof of American travelers. It was not a suggested itinerary for the rest of us.
Brussels
Brussels is quickly gaining a reputation as one of Europe's must-see destinations. Moreover, with its central location in the heart of Europe, it's easily accessible by air or high-speed rail from neighboring countries.
It's an international metropolis – a mosaic of languages and cultures – and the home of the EU, NATO and myriad organizations. English is widely spoken, making it a great place for even a novice French-speaker to get by without an issue.
Brussels is a classic European city with small-town charm and cosmopolitan attractions. Among its most celebrated attractions is La Grand Place, a UNESCO World Heritage Site originally built in the 13th century. Arguably, it's Europe's most beautiful medieval square. If you're a chocoholic make your way to Place du Grand Sablon and its numerous chocolate shops.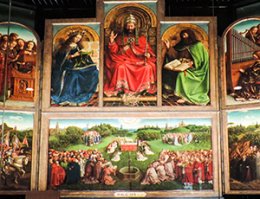 Just a short walk from the Grand Place is the Mannekin Pis, a small bronze statue of a little boy relieving himself. The statue, a good example of Belgium's sense of humor, is given costumes to mark various occasions, anniversaries or events.
Antwerp
Known for its vibrant nightlife, funky bars and restaurants and numerous festivals, Belgians see Antwerp as the "capital of cool." The Antwerp Fashion Academy produced a group of avant-garde designers who made a big splash on the fashion scene in the 1980's. Consequently, they became known as "The Antwerp Six." Nowadays, the Academy continues to churn out new, hot talent.
If shopping is not your thing, discover the compact center of Antwerp. It juxtaposes beautiful medieval buildings with modern architectural landmarks. You'll find plenty historic buildings, as well as the biggest diamond center in the world.
Antwerp is an art-loving city with which the name Rubens is eternally linked. Still, more than 400 years after the birth of this brilliant painter, it's still possible to see the extent to which Rubens left his mark on the city. You can cap your visit off with a taste of the city's funky nightlife.
Bruges
The historic center of Bruges, a UNESCO World Heritage Site, is closed to cars, making it easily explored on foot. It's an impressive city, stunningly beautiful and culturally active, that you can also explore by boat along quiet canals. Actually, you can do it well also by horse-drawn carriage.
Although Bruges is small, it's filled to the brim with architectural and artistic treasures, folklore, chocolate shops and lace boutiques. Moreover, there's no lack of fine restaurants.
One popular place in the city is The Beguinages, a UNESCO World Heritage site. It's the home of the nuns of the order of Saint Benedict. Another is the Halve Maan Brewery, a family-owned brewery, and creator of the famous 'Brugse Zot' beer. If you're on a budget buy the discount Bruges City Card or tour the countryside outside the city by bicycle.
Ghent
Ask a Belgian where they like to travel within their country, many will tell you about the city of Ghent. Belgium's third largest city with most of its town center closed to cars, it's best best explored by foot. Of course, there's also the possibility of bicycles, or by boat along its elegant canals.
Ghent is an unassuming, un-touristy city filled with university students, linger-as-long-as-you-like cafes, well-priced restaurants and vibrant energy. It's a city with great mustard, Stropke beer (which is Flemish for noose), and the ten-day Ghent Celebrations. The latter is held every July and the city goes all out with theater performances, concerts, singing, dancing, and drinking.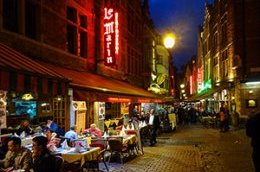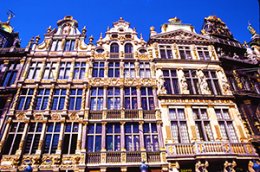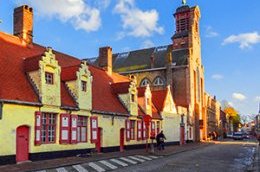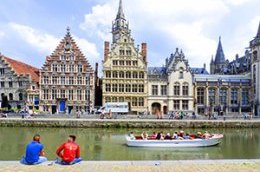 Source: www.neverstoptraveling.com