Belgium Travel Guide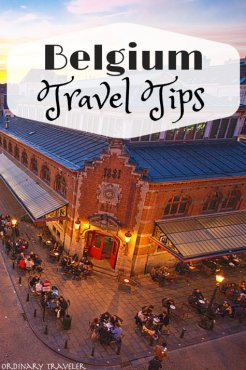 Belgium's central location in the heart of Europe and its Dutch, Austrian, Spanish, and French political ancestry make it a perfect example of blended European sensibilities—probably why its most famous city, Brussels, is the capital of the European Union. With delicious food and beer and a dense history of influential art and music, Belgium offers a wide range of historical, cultural, and culinary adventures.
Transportation
As Belgium is a member of the Schengen Agreement, it's easy to access as part of a larger European vacation, whether by air, rail, cruise, or car. As long as you have met the visa requirements for entering one Schengen Zone country, you are generally allowed trips to other countries within the zone, as long as they're under 90 days. Keep in mind the Schengen Zone and the European Union are not the same thing, and make sure to fully research your visa requirements in advance, as there may be exceptions.
Within Belgium, the train is by far the best way to get around. Belgium is a small country, only 300km at its largest distance, and its train system connects not only its towns but also many of its towns to international train routes. A Go-Pass or Rail Pass booklet is an incredibly cheap way to travel to multiple cities, as it can be used for up to 10 trips per year, including train changes. In the cities, a reliable bus, tram, and metro system is available.
Food & Culture
French and Dutch are the two main languages spoken in Belgium, Dutch in the northern province of Flanders and mostly French in the southern province of Wallonia. Flanders is well known for having produced an amazing number of famous painters, including Peter Paul Rubens, Anna Boch, and the cartoonist Hergé, creator of The Adventures of Tintin. The country still continues to produce a great number of influential artists, musicians, and architects.
Belgians are well known for both their chocolate, so much so that European laws have been passed to protect its reputation! It tastes especially good drizzled on Belgian waffles, which you can find and enjoy as a street food. To drink, you can find hundreds of local, specially-brewed Abbey beers, which carry on the techniques and traditions of brewing them that were developed in the monasteries which have lasted since the middle ages. Definitely choose a local drink over the big names like Stella Artois—you won't regret the experience.
Sights & Activities
Eat & Drink in Brussels — Brussels has several pubs who offer beer tastings, over thirty chocolatiers, and numerous bars and restaurants. Take a Beer Tour or a Chocolate Tour to get a wide sampling of everything this delicious city has to offer.
Ghentse Festeen — This annual festival in Ghent is a ten-day riverfront party of music, dance, and theater. In actuality, it's made up of several smaller festivals such as the Ghent Jazz Festival, the Ten Days Off electronic festival, and the International Puppetbuskerfestival for puppeteer enthusiasts.
Cathedral of Our Lady — Probably one of the largest and most impressive cathedrals in Northern Europe, this church is in the downtown historical area of Antwerp and houses a number of Rubens' famous paintings.
Cellar Restaurants in Antwerp — The cellar restaurants in Antwerp were unlike anything I had ever experienced before. From the medieval menu and beer tastings at De Pelgrom to the authentic Belgian cuisine at Estro Armonico, it's an experience you shouldn't miss.
For more Belgium travel resources & tips, visit these pages:
Plan Your Trip to Belgium
After traveling consistently for over 10 years, we've come to trust and rely on a few websites to help us find the best deals on flights and accommodation.
Flights:
Momondo is the first place we check when searching for cheap flights. It searches hundreds of sites for the best fare and includes both standard and budget airlines. The price calendar feature shows the cheapest days to fly in your preferred month of travel.
Source: ordinarytraveler.com