Best Restaurants in Brussels Belgium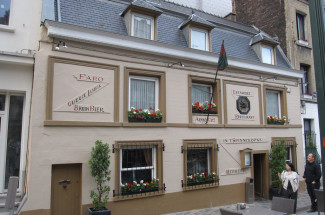 Belgium's capital has one of the densest collections of Michelin-starred restaurants in Europe – with prices to match. But Belgian cooking is arguably at its best when done simply, and in many cases the best Brussels restaurants are the humblest ones.
La Roue d'Or may be a revolving door for tourists but it's a great all-rounder. Staff affect the air of someone who knows they're unlikely to ever see you again (and that it'd be too soon if they did), yet the old-school cafe interior and even older menu redeem it. Try classics like the herby eel in green sauce, the lamb's tongue, or the excellent moules frites (mussels and chips).
For the best seafood in Brussels, head to Place Ste-Catherine where, among others, you'll find Mer du Nord. This is essentially a fishmonger's window where locals queue to eat cheap, ultra-fresh seafood, all cooked in front of you. Eat at stand-up tables or, if you're lucky, sitting at the bar.
Elsewhere, La Fleur en Papier Doré is what's known as a 'brown bar', owing to its dark, nicotine-stained walls. These are covered in scribbles and old photos that date back to when this was the drinking den of Magritte and the Surrealists. Today, a small, well-priced menu of Flemish pub food includes such treats as creamy stoemp mash with bloempanch, a type of local blood sausage.
For truly traditional Belgian fare, In't Spinnekopke is difficult to beat. Set in a whitewashed 18th-century cottage, it often uses lambic beers in its sauces, which lends them a sour, fruity taste. Classic Belgian staples such as its carbonnade (steak and beer stew) and waterzooi de volaille (chicken in a creamy wine sauce) are among the finest in the capital.
And finally, for Brussels's best frites, trek to Maison Antoine. At first glance, it's just a stall in a car park, albeit one that commands queues that loop the square. Grab pots of Bicky and Samurai sauces (spiced local mayonnaises) and settle in one of the surrounding bars; these usually allow you to eat your frites in peace, so long as you buy a drink.
Source: www.timeout.com