Breweries in Brussels Belgium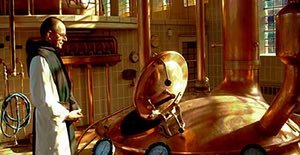 Keeping watch ... A monk oversees brewing at a Trappist monastery in Belgium. Photograph: Charles D. Cook/CAMRA
Forget tours of French vineyards: discerning drinkers are heading to Belgium in search of fine beers - and this week sees the publication of a guide to help them. Author Tim Webb explains where to find the best brews in Brussels
The Germans may be top at brewing pure, obsessively honed lagers and smaller British breweries may have cornered the market in hand-drawn 'real' draught ales, but only the Belgians can claim to make beers like no other, in a diversity of styles that outstrips the rest of the world.
In south-west Flanders, brewers age brown ales in oak tuns for up to two years before bottling. Across the northern Ardennes into Limburg, farmhouse brewers sell their robust concoctions in large corked bottles, for sharing at the table.
The lambic brewers and blenders of Brussels and Payottenland ferment their uniquely cidery beers with naturally occurring airborne yeast. And the monks who oversee beer-making at the six Trappist abbeys create pungent, hop-laden pale ales and rich, dark, contemplative barley wines.
Belgium does originality like no other brewing nation. But despite growing success with exports, there is no better place to go sampling than the country's own unique blend of cafes, brasseries and 'tea-rooms'.
Brussels is a ragbag of grand architecture and messy streets, so to get the best from the city you need to know where to go.
Brussels' famous Grand' Place is the only Unesco World Heritage site to host an annual beer festival (the first weekend of September). But tourist traps are rarely home to great cafes and this is no exception. Photograph it and move on.
Opposite the Manneken Pis, the much-gawped-at statue of a pot-bellied boy piddling, is the Poechenellekelder (5 Rue du Chêne - closed Monday), and it is Bruxellois to its breeches. The wall adornments and collectibles are hand-picked and provocative, not a job lot from pub kitsch central. The list of 90 beers is a good introduction to Belgian ale.
Between 1892 and 1920, Victor Horta used the Brussels townscape to show off the architectural wing of the Art Nouveau movement. The Mort Subite (7 Rue Montagne aux Herbes Potagères) is probably the best surviving fin-de-siècle long bar in the world. Uniformed staff police rows of tables with a practised disdain, while customers sit on uncomfortable bench seats, a few backed with original leather and horse-hair. For adventure, drink gueuze sur lie from De Keersmaeker, with a small plate of local jellied meat, like tête pressée or kip-kap (pig cheeks).
The nearby Galeries Royales St Hubert was Europe's first shopping arcade (opening in 1847). Halfway along is an entry to the Ilôt Sacré, a tangle of medieval lanes, with its endless fish restaurants.
Off to the right in a blind alley is an extraordinary, sprawling cellar bar, Delirium (4a Impasse de la Fidélité). Here they serve more than 2, 000 beers, the official world record. Despite this, most are drinkable. More than 400 are Belgian, and they delight in sourcing the rare and obscure. This goes for their cheeses too.
Belgium has almost as many restaurants as it has cafes. Many now stock strong lists of suitable beers to accompany fine food. Some specialise in cooking with beer. The capital has two classic examples.
Down in the Marolles, just off Place du Jeu de Balle and its famous flea markets, owner-chef Alain Fayt has created Restobières (32 Rue des Renards - closed Monday-Wednesday - a delightful bistro with inspired food, great ambience and a beer list that Fayt has selected from recent travels round his native land.
Source: www.theguardian.com