Restaurants in Brussels, Belgium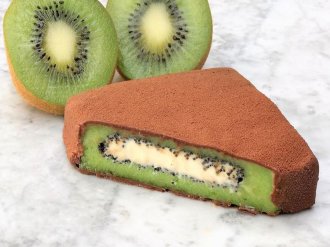 Mermaiding. (Picture: REUTERS/Yves Herman)
Ever fancied eating your dinner in the bottom of a swimming pool?
Yeah, us neither.
A bakery in London is selling kiwi sorbet bars covered in fuzzy chocolate
But as we've learned from the naked restaurant, the place that serves food on iPads, and all the other absurd food-serving venues we've seen over the years, it doesn't matter if there's no demand for a gimmicky restaurant. If there's a gimmick, it'll happen.
And so, a snazzy new underwater restaurant has just opened in Brussels.
The Pearl is a restaurant at the bottom of a swimming pool, five metres below the surface.
(Picture: REUTERS/Yves Herman)
It's a magical spherical cabin (so don't panic, there's no water inside. You can breathe), and customers have to dive into the pool to get to their table.
Once you make it through the water and inside the cabin, you'll be able to enjoy a meal of lobster salad, foie gras, and champagne for 99 euros. Which sounds pretty fancy. This isn't your average lido.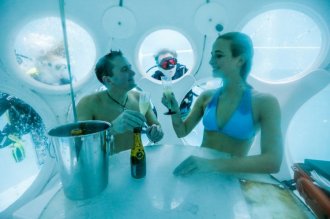 You'll be served by waiters in full-on diving suits.
It's also fairly exclusive, with room for just four people. Ooh.
The creator of The Pearl, John Beernaerts, reckons the restaurant is about more than just the excitement of being underwater.
(Picture: REUTERS/Yves Herman)(Picture: REUTERS/Yves Herman)
'It's a bit like going back to a foetal state, ' he said, 'like in a cocoon.
'And you can talk, discuss, exchange – but all of this in a muffled atmosphere that sort of looks like our very early days.'
Womb. Cocoon. Right then.
(Picture: REUTERS/Yves Herman)
The Pearl is described as looking like a golf ball with windows, so that's nice too. It's also supplied with oxygen by NEMO33, which is important for, well, breathing.
Source: metro.co.uk