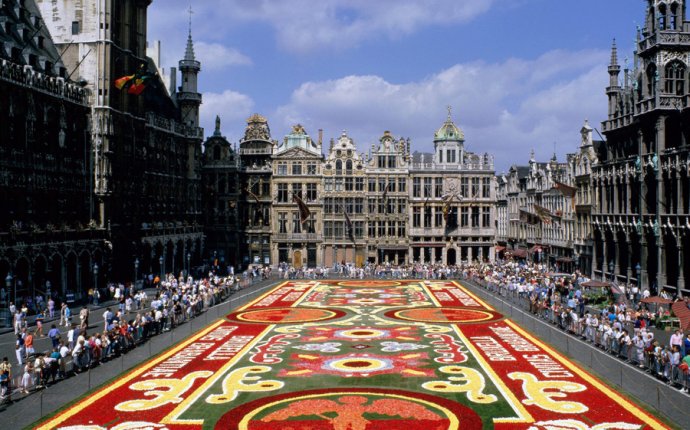 Landmarks in Belgium
Belgium celebrates its independence day at the Cinquantenaire Arch. (Photo: Paul O''Driscoll/Getty Images News/Getty Images )
Related Articles
Belgium is a neighbor to France and the Netherlands, a small nation rich with history and culture. Founded as a constitutional monarchy in 1831, Belgium was a major battleground for both 20th century World Wars. The region was an important center of painting both in the Baroque era and, later, for Art Noveau. Most of the population speaks either Flemish or French. Belgian cuisine, particularly its beer, is regarded as some of the finest in the world. Belgium embraces the modern and the antique in its landmarks and attractions.
Cinquantenaire Arch
The Cinquantenaire Arch is a triumphal sculpture anchoring the large park in Brussels known as arc du Cinquantenaire or Jubelpark. The arch was built in 1905. The adjoining buildings house several public museum collections. As Jubelpark was opened in 1880 to commemorate Belgium's 50th anniversary of independence, the arch is commonly the site chosen for celebrations of national importance, including an annual independence day march. Figurative sculptures surround the arch, which is topped with a bronze representation of a four-house chariot called "Brabant Raising the National Flag."
Manneken Pis
The famous sculpture in Brussels known as Manneken Pis provides a humorous counterpoint to the grandeur of the Cinquantenaire Arch. Manneken Pis literally translates as "small man peeing, " and that's exactly what this bronze figure depicts - a young boy urinating into a fountain. The statue is only two feet high and originally dates from the early 17th century, although the current figure is a copy. It is a favorite tradition to dress up Manneken Pis in various humorous costumes.
The Atomium
The Atomium is an imposing metal sculpture originally built in 1958 to commemorate the Brussels World Fair. It represents the chemical structure of an iron molecule, with nine spherical vertices connected in a lattice. The entire structure stands 335 feet high; visitors can take an escalator to the topmost sphere and look out over the capital city.
Runners-Up
Although the most famous of Belgium's landmarks are all in the capital city of Brussels, the rest of the country offers many attractions worth visiting as well. Antwerp's Onze Lieve Vrouwekathedraal, or Cathedral of Our Lady, is Belgium's largest Gothic-style cathedral, with seven naves and several outstanding pieces of art by the Belgian master painter Rubens. The town of Bruges seems preserved in time; its Church of Our Lady houses a marble sculpture of the Madonna by Michelangelo. The 10th-century castle of Bouillon looms out of the rural Ardennes forest region on the border with France.
Source: traveltips.usatoday.com