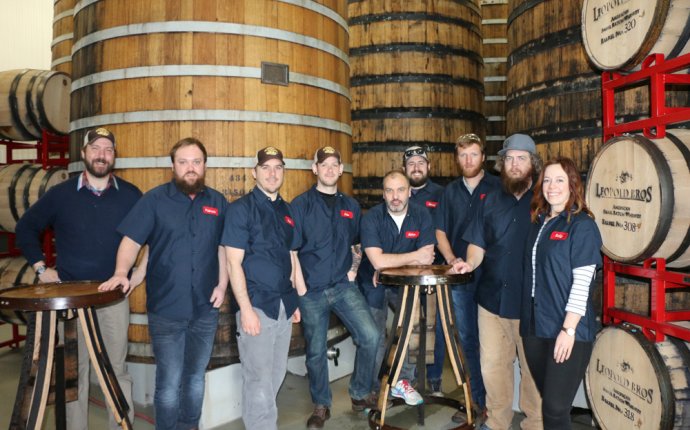 New Belgium Collaboration
A wise man advised
"you should err
on the side
of caution"
to that they replied
"we will err
on the side
of awesome"
The Story
Last week was awesome. Jay and Alex flew out to New Belgium Brewing to blend a sour beer with Lauren Salazar. Our friend Lauren is the Blender at New Belgium, a giant in the world of sour beer, and an all-around badass. The final blend we created is called "Err On The Side Of Awesome", but in order to fully understand this collaboration, we're going to take a step back in time…
On a brisk afternoon in the fall of 2007, Alex's uncle took him on a tour of New Belgium. While Alex was on the tour, he realized that brewing is using the science of biology to create art… to create beer that was way better than the stuff he was drinking at the time (crazy as it is, Alex's mom caught a picture of that exact moment below). Upon returning home, Alex got a homebrew kit, and started brewing in his kitchen with his roommate and best friend, Jay. Fast forward in time, Jay is working at The Bruery, Lauren teaches him how to start their sensory program, and a friendship is born.
Roughly around the same time that Alex went on his tour of New Belgium though, New Belgium was looking to get rid of a few of their oak barrels, and decided to send them out to other breweries. Lauren marked the barrels that she wanted to keep and she marked the ones she wants to send out. Time passes, the seasons change, and she finds herself visiting Russian River. While she's touring Russian River, she sees a barrel marked "pH1"… which was never supposed to leave New Belgium! pH1 was one of New Belgium's original seven oak barrels and it was producing amazing sours. Whoops. This barrel, pH1, ended up contributing to Russian River's exceptional beer, Beatification, and ended up living there for quite some time.
A few years later, Alex and Jay catch wind of this story, and love the idea behind it… the idea that there is this one exceptional barrel that has a perfect blend of yeast and bacteria. With that in mind, Jay and Alex decide to name their brewery "The Rare Barrel", in reference to the legendary pH1.
About one year ago, Russian River surprised Lauren by sending her beloved pH1 back to her! She excitedly filled it up, and began to age a cherry sour in it. The cherry sour aged for a year, and brings us back to present time. pH1 has bright cherry notes, is assertively sour, and very dry. pH1 is bold, and pH1 is ready to be blended. By this point, we're good friends with Lauren, and a collaboration with New Belgium and The Rare Barrel is born, with pH1 right smack dab in the middle of it. The circle is complete.
The Collaboration
Lauren, Jay, and Alex spent three epic days in the wood cellar tasting through a wide variety of samples from New Belgium's barrel and foeder program. We started with pH1 at the center, which was assertively sour and dry with bold cherry notes and free from off flavors. It was a perfect beer to blend with, because it had so much personality that we were able to carry though the entire blend. After days of tasting, blending, tasting, and more blending, we came up with a blend that we were all quite proud of.
The final blend consists of pH1, eight oak barrels of cherry sour, and parts of 2 foeders of Felix (pale sour). Check out the video below for a fast tour through the wood cellar to see pH1 and the 2 foeders. The final blend ratio of Err On The Side Of Awesome is 4 parts cherry sour, 1 part Felix from Foeder 59, and 1 part Felix from Foeder 29. Err On The Side of Awesome is assertively sour with bright notes of cherries, pineapple, white wine, and friendship.
Source: www.therarebarrel.com