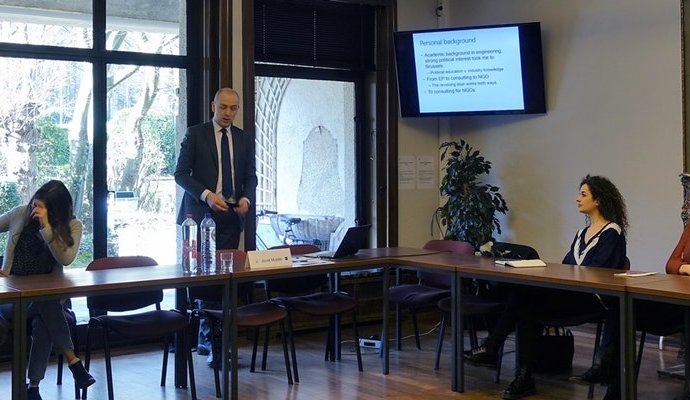 Université Libre de Bruxelles Brussels Belgium
In the heart of Europe, just 1h20 by train from Paris, 1h30 from Amsterdam, and 1h50 from London and Cologne, the city of Brussels offers all the advantages of a capital city and the quality of life of a large and lively town.
Located in the city centre, the University campuses and surrounding areas are extremely attractive, providing just the right mix between study and leisure. > More on Brussels...
MULTICULTURAL AND INTERNATIONAL
As a multicultural university with one third of students and researchers from abroad, international relations is a daily reality for the Université libre de Bruxelles, just like the city of Brussels itself, one of the world's most cosmopolitan cities.
Its outward-looking position with regard to Europe and the world has resulted in a number of agreements, collaborations and special partnerships being set up with some of the world's top universities. > More on International...
GROUNDBREAKING RESEARCH
HIGH TEACHING STANDARDS
The Université libre de Bruxelles has 12 faculties that cover all the disciplines, closely combining academic input and research. It offers almost 40 undergraduate programmes and 247 graduate programmes. It also partners 20 Doctoral schools, with almost 1, 600 PhD in progress.
One of the University's main aims is to give its students a solid foundation in critical thinking as well as a taste for research, while at the same time catering to the needs of new publics. > More on Education...
A FOCUS ON LINGUISTIC AND CULTURAL DIVERSITY
As a French-speaking university, most of the courses at the Université libre de Bruxelles are delivered in French. However, a growing number of Master degrees are partly or entirely delivered in English.
The University offers a wide range of French courses, prior to and during the academic year, to help its international students improve their language skills.
A COMMITTED UNIVERSITY
The Université libre de Bruxelles has developed a large spectrum of student support initiatives: e.g., financial and psychological support, guidance, French classes, etc.
Since its foundation in 1834, the Université libre de Bruxelles has been closely involved in the ongoing debate on critical thinking and freedom. This has included outspoken opposition to dictatorships and other nationalist abuses, the promotion of equal opportunities and a raft of other social issues. Based on the principle of free enquiry that postulates independent reasoning and the rejection of all dogma, the University has retained its original ideals as a free institution that is firmly engaged in the defence of democratic and human values. > More on ULB's commitment...
Source: www.ulb.ac.be