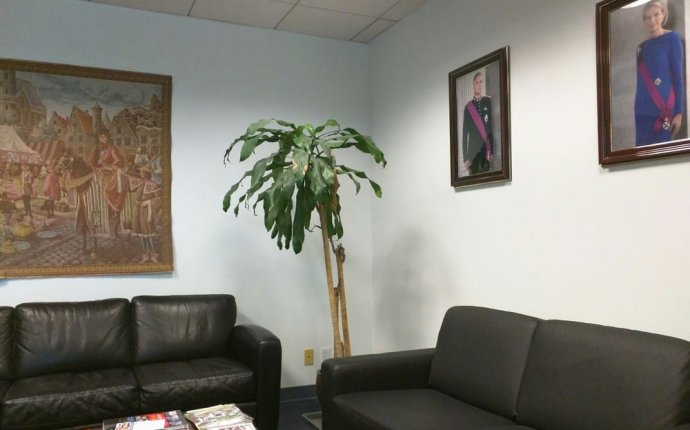 Belgium Embassy Los Angeles
6100 Wilshire Blvd
Ste 1200
Los Angeles, CA 90048
(323) 857-1244
This morning must have been the most pleasant visa application process I've ever experienced. At 9am, I was promptly greeted at 9am by Ilsa. Ilsa was friendly but thorough, she put my at ease while she checked all my papers. When she had questions, she was never stern but always patient. YOU WERE AMAZING ILSA! After I pick up my visa next week, I don't know if I'll ever need to visit this Consulate again as I am filing for US citizenship this year. I do highly recommend it for anyone needing a Schengen visa. Check out Ghent and Bruge! **Parking is expensive. Try to park elsewhere! I paid $17! (Got there at 8:30am left at 9:45).
Really amazing consulate. One of the best I've been too. Parking was easy during the day (I parked on the street - metered - and to an hour) and waltzed in. They are located on the 12th floor with some crazy good views of LA and the Hollywood sign (I could stare out that window for hours just watching people and traffic). However, I had more important things on hand - and that was getting my VISA! They were right on time to walk to the window and ask me if I had an appointment. And the lovely lady was very helpful - organized my documents, double checked everything (added a few questions), and had a smile on her face most of the time. She wasn't anal like those at other consulates (think Italy haha); she made sure she had all the information; and that I understood the procedure well. Even when she was taking my fingerprints and photograph - she took care to make sure I was ready (instead of just snapping the first ugly face I could make). Could not have asked for a more pleasant, easy, visa application experience! Yes, it was a pain in the butt to drive all the way to Los Angeles just to get a Schengen VISA as the Consulate General of Belgium in San Francisco only processes passports, however ... I do enjoy driving in my SUV, especially longer drives where I can just zone out and think about life; I also love certain spots in LA; and I absolutely must travel or I will go insane ... my bedroom walls get all to familiar and then I started acting all nut-like! So this is a nice break for some ... however I can see how many folk would hate it if they were traveling further distances - in that case I'd suggest staying in a different Schengen state for longer so you can go to that Consulate instead haha ... it's all about optimization - think about what's best for you alright :)
This is has been by far the most irritating experience. I set up an appointment to get my Chilean passport of course when I did get ahold of Maria Fernanda she seemed in a hurry to get me off the phone. I then forgot everything I needed and emailed her still no one gave me a time for my appointment all I got was a "we'll see you February 11". The day of my appointment I get here and one of the women comes to me in such a rude manner telling me she's sure they told me the time. Turns out I've never even spoken to this rude woman. Lucky for me I saved my emails so I'm not the one who doesn't have everything together they need to step up their game and actually treat the people who come in here nicely! I ended up asking the woman's name because I write everything down and because I knew that even though she helped me get my passport I was still going to write this review. I would have given her a second chance had she not continued to be rude. Oh her name was Soledad Lopez. These people really need to learn how to be more friendly! It's ridiculous how they talk to people.
Amazing place with friendly and quick service. I am very grateful to people working there for all the help I have received from them.
Source: www.yelp.com