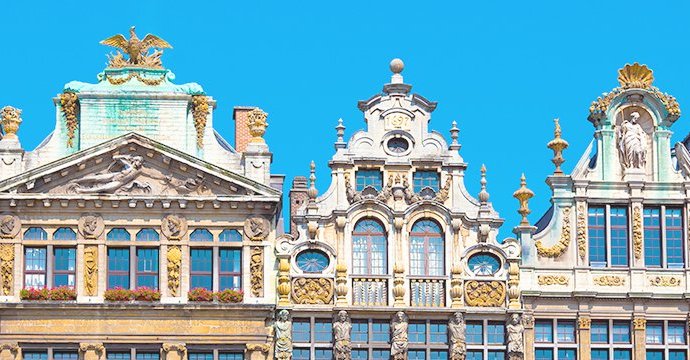 Study Belgium International students
If you're looking for a real international study abroad experience, you need look no further than Belgium. A small country, with a big cultural history, Belgium is home to over 10 million people. It's also the place that the European Union (EU) and the North Atlantic Treaty Organization (NATO) call home. Officially known as the Kingdom of Belgium, it is a low-lying country of western Europe, having land borders with Germany, Luxembourg, France and the Netherlands.
Belgium can be roughly divided into two separate areas, the northern, Dutch speaking area of Flanders and the southern, French speaking area of Wallonia. Even though its capital, Brussels, sits within the Flanders area, it is a bilingual area, with most residents speaking both languages fluently. Belgium is a densely populated country, and is a welcoming environment for international students.
Why Study in Belgium?
Brussels is one of the most multicultural cities in Europe, offering an international experience to anybody choosing to study there. It's perfectly positioned if you wish to spend your spare time exploring Europe too. As well as holding land borders with Germany, Luxembourg, France and the Netherlands, it also has a border agreement with the United Kingdom as Eurostar trains run direct from Brussels to the UK without stopping for the French border, meaning you can be in London in just two hours!
Studying in Belgium offers more than just a rich cultural pastime though, with many excellent institutions dotted across the country. Five universities in Belgium are ranked in the top 200 of the QS World University Rankings, an impressive figure for any country, but particularly for one the size of Belgium. Belgian universities do cater for international students, with many courses being taught in English, although if you are interested in studying in the native French or Dutch, the choice of courses available will open up for you.
About Belgium
Since becoming independent from the Netherlands in 1830, Belgium has cemented itself as a key player within Europe, becoming one of the founding members of the European Union, it also plays host to the EU's headquarters. It's not just a recognisably important place for Europe though, with NATO calling Belgium home too. Belgium is a modern country, with a strong economy that benefits from its central location within Europe and is famously known for the export of fine beers and chocolates.
Due to the country's small size, there is little regional difference in climate, with all areas benefiting from cool summers and moderate winters that are heavily influenced by the North Sea and Atlantic Ocean.
The top tourist attractions in Belgium include:
Grand Palace (Brussels)
The Citadel (Dinant)
Mini Europe (Brussels)
Bruges
Cost of Studying & Living in Belgium
Belgium uses the Euro (€) for its currency and enjoys a high standard of living. Belgium isn't an expensive place to live, making it a great place to study abroad for the cost-conscious student. In Brussels, there are also many discounts available for students, and elsewhere in Belgium there are opportunities for international students to save money with offers on many recreational activities.
Belgium has basic tuition fees that are standard across the country. Whilst they fluctuate each year, you should expect to pay around 900 euros for one year of studies in Belgium. In addition to these basic tuition fees, students from outside the EU will be required to pay additional fees of between 2, 000 euros and 4, 000 euros.
Scholarships are available for studying in Belgium, although they are not always that easy to find. You'll have to be prepared to look long and hard for suitable scholarships for studying abroad in Belgium, looking at study abroad scholarships with no specified destinations, which are generally competed for more.
If you choose to study in Belgium, you'll be allowed to work part-time in order to earn some extra money whilst you study. If you're an international student, you may need to gain a work permit, so it is worthwhile checking with your embassy once you arrive in Belgium on your study abroad experience.
Visas
The good news is that if you are from a country that is part of the EU/EEA, you won't need to gain a visa to enter the country or to study there. If you're not a resident of the EU or EEA, it is highly likely you will need a visa to gain entry to the country to study. Visas are split into two types by duration, less than 90 days and more than 90 days. If you're studying a degree in Belgium you will need a visa that lasts longer than 90 days, although it does depend on what course you are planning on taking.
The visa process varies depending on your country of origin, so you'll need to talk to the Belgian embassy in your home country to find out the specific process for you. It's worth allowing plenty of time to complete your application and gain a visa to study in Belgium, as without it, you won't be able to study in the country.
Language
Most courses in Belgium are taught in French, although there are an increasing amount of internationally aimed courses that allow you to study in Belgium in English. If you're applying for a course that is taught in French, you'll have to hold excellent French language skills. You'll quite often have to pass a French proficiency test in order to be offered a place on the course.
If you choose to study in Belgium in English, you'll have to provide proof that you hold appropriate English language skills by showing the results of an accepted English Language test. You typically need a score of at least 6.0 IELTS or TOEFL 550 (Paper Based), 213 (Computer Based) in order to study in Belgium in English.
Brussels
Home to the EU and NATO, Brussels has to be the place to study if you've got an interest in international politics and affairs. Brussels is a great place to be a student, with beer and chocolate flowing continuously from the capital, it's a vibrant multicultural city that is waiting to be enjoyed. With a welcoming atmosphere, choosing to study in Brussels could be the best choice you make in your study abroad adventure.
Antwerp
If you like your fashion, and you want to remain looking trendy throughout your time studying in Belgium, Antwerp is the place for you. One of Europe's best kept secrets, Antwerp is the diamond capital of the world. It's also home to the MoMu (Mode Museum) fashion museum, making it the ideal study abroad destination for anybody wishing to study fashion or design.
Ghent
A relatively small city with less than 300, 000 people living there, Ghent makes a beautiful study abroad location. Sandwiched between Brussels, Bruges and Antwerp, Ghent often falls by the wayside, forgotten and ignored by tourists. Their loss is your gain however, with the University of Ghent offering an excellent education with an international perspective in an area that is both beautiful and charming. By studying in Ghent, you'll be learning at one of the leading institutions of higher education and research in Europe.
Source: studylink.com