Time in Brussels, Belgium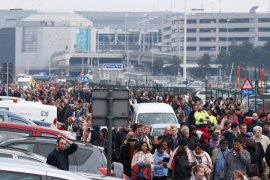 Passengers and airport staff are evacuated from the terminal building after explosions at Brussels Airport in Zaventem, Belgium, on March 22, 2016 Laurent Dubrule—EPA
One year ago on Wednesday, I was at Brussels Zaventem airport having breakfast in a departure terminal when it became clear that something was terribly wrong. I didn't hear or feel any blast, but suddenly a panicked restaurant worker shouted at everyone to get out. An evacuation order blared over the speaker system, but no one seemed to know what to do. About an hour later we finally filed out of an emergency exit, well aware from our smartphones that we had been caught up in the worst terrorist attack in Belgium's history.
We stood on the tarmac of a loading bay in the chill of the early spring morning, the elderly huddled under airline blankets, parents comforting crying babies, everyone trying to comprehend what had just happened. A man sat on a curb in a bloodied sweatshirt. We could see the shattered windows of the check-in hall, where 16 people had been killed by suicide attackers Ibrahim El Bakraoui and Najim Laachraoui. A murmur passed through the crowd — another suicide bombing, 16 more killed by El Bakraoui's brother Khalid on the Brussels Metro.
It was what everyone had feared since 130 people died in the Paris attacks the previous November — Islamic State (ISIS) terrorist attack had come to Brussels. T he final death toll counted 32 victims and the three attackers, while 320 people were injured.
Then the blame game started, with f oreign media running stories labeling Belgium a "failed state." Attention focused on the division between the French- and Dutch-speaking communities, and the decentralized system of government that resulted in little cohesion in national security. There are, for example, six different police forces in Brussels alone, and this fragmentation was blamed for allowing the ISIS cell to slip through the cracks. The criticism stung, and authorities have fought to defend the reputation of the country.
"We have worked very hard to give more legal capacities, more financial capacities and more technological capacities for our security services and for our intelligence services, " Belgian Prime Minister Charles Michel said in a recent interview with TIME.
Related
The attacks also raised difficult questions about radicalization. Belgium has seen more foreign fighters per capita travel to ISIS's battlefield than any other country in the European Union. Laachraoui had been active with ISIS in Syria, while Ibrahim El Bakraoui was arrested by Turkish authorities attempting to cross into Syria. The Paris and Brussels attacks were planned by the same cell, acting under orders from ISIS in Syria or Iraq. Now the fear is that the foreign fighters will return as ISIS territory falls and pose a threat to Belgium. Homegrown terrorism is also worrying the authorities.
Jessika Soors, head of the counterradicalization team in Vilvoorde, a municipality about 6 miles from Zaventem airport, tells me of one family who had to contend with a double misfortune: their daughter worked in the check-in hall and was struggling to process with what she had seen. Their son, however, was one of an estimated 500 Belgians who traveled to Syria to fight for ISIS: within one family, a victim and a perpetrator, illustrating the challenge for the Belgian authorities of reacting to the attacks without alienating a community.
For Michel, the Prime Minister, it was crucial that the messages he sent in the days and months after the attacks did not exacerbate feelings of exclusion.
"I wanted to avoid a double radicalization, " he said.
"I was convinced that it was not intelligent to create panic in the population, and also to maintain the unity of our citizens, and to avoid the situation where Muslims in general would be in difficulty, " he said. "I didn't say — as [French President] François Hollande did — that we are at war. It's not a war in Belgium. I chose the words to avoid this dramatization."
Belgium did not see the kind of indiscriminate reaction of some French communities, where the row over the banning of burkinis — swimwear adhering to strict Islamic dress codes — was seen as a populist backlash against attacks. But the Muslim community has inevitably felt under greater scrutiny. "They feel they have to prove even more that they are not terrorists, " says Soors .
And while there are communities like Vilvoorde with progressive approaches to deradicalization, people working in the field have seen little evidence of a coordinated program at the national level.
"I've met people from the ministries and they are all looking for solutions, " says Nina Noorali, who works with both former combatants and terrorist victims through the International Association for Human Values. "So it may look like things are happening, but concretely at grassroots level, I haven't seen anything significant."
A year on, many victims are also still struggling. The Belgian government has counted 900 victims in total, encompassing those affected by physical or psychological trauma.
"You are left with that very heavy feeling of 'Why me? Why that very minute?' No matter how much counseling you go through, your mind will still bombard you with these questions, " says Noorali. "One or two people were seriously thinking of committing suicide ... They could just see darkness."
The injured and grieving have also been frustrated at the slow and complicated process of claiming compensation from insurance companies and the government. Karen Northshield, 31, who remains in the hospital after injuries to her legs, hips and stomach, told the Belgian broadcaster RTBF that she still hasn't been told how long she will be receiving financial support.
"My biggest fear is that the day I get out of the hospital, there is no guarantee that I will get funding, " she said.
Source: time.com