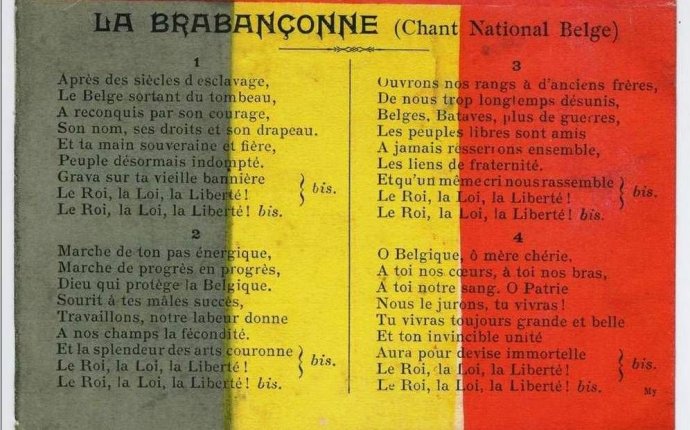 National Anthem of Belgium
The Belgium anthem had its genesis when Belgium gained its independence in 1830. The popular legend goes that it was written by some young people in a cafe on Fource St. in Brussels in September 1830. While the story may or may not be true, the anthem does date back to that time. In 1860, the anti-Dutch lyrics were softened and the version that is in use today was created. When Deceht (better known as "Jenneval") wrote his verses, he called the poem 'La Bruxelloise'. His publisher thought it better to broaden the scope from the city's to the area's name (Brabant) and renamed it "La Brabançonne".
The music was written in September of 1830 and the first public performance of the anthem occurred the following month. Finally, in 1921, it was decreed that only the fourth stanza of the 1860 lyrics are official in the French and Dutch versions, although I understand that all the verses are commonly used and sung. However, an official version of the "Brabançonne" does not actually exist. Different commissions have been established to examine the words and melody of the song and establish an official version. Yet, all of their efforts had been in vain.
Source: www.nationalanthems.info